Meet the new Ford Mustang Mach 1, limited edition. The most powerful and high-performance track member of the Ford Mustang range in Europe. Formidable performance arsenal: the 5.0-litre V8 engine delivers a whopping 460 hp at 7000 RPM and 550 Nm of torque at 4600 RPM.
With distinct special edition design elements. And equipped with advanced options and technologies to improve the driving experience: this is a serious Mustang, designed for those who take performance seriously.
The precisely adjusted chassis has been combined with more rigid stabilizer bars and front suspension for optimum handling and stability. And the specially calibrated electric power steering (EPAS) ensures a higher reaction speed when turning the steering wheel.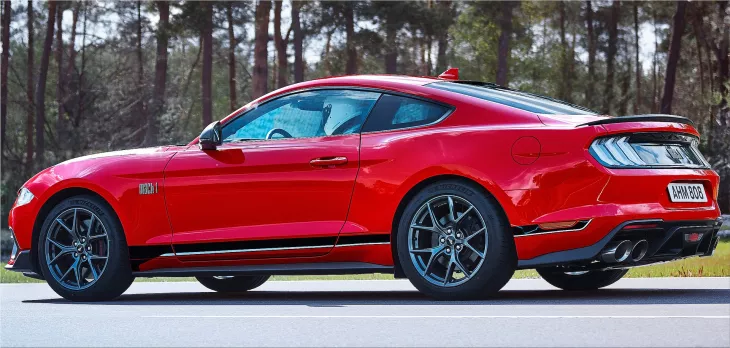 Every aspect of the new Ford Mustang Mach 1 is created for performance. Improvements to the aerodynamic configuration ensure greater compressive strength compared to other Mustang designs. The new front grille offers greater cooling for optimal performance on the track, as well as a more aggressive and imposing presence on the road.
Choose from a range of body colours available, including Fighter Jet Gray, available exclusively for Mach 1. The distinctive side and hood stripes in Satin Black complete the racing-inspired style. And the 19 "Tarnished Dark alloy wheels, together with the exclusive Michelin brand tires, give an amazing design and optimal performance.
The Mustang Mach 1 is designed for style and comfort, but also performance. The Mustang Mach 1 interior includes premium leather sports seats with distinctive Mach 1 accent stripes; a unique instrument panel with dark effects and bright colour finishes, and the unique limited edition Mach 1 emblem. The key driver information is displayed on the 12.3 "digital dashboard. At the same time, a series of intelligent assistance technologies improve your driving experience.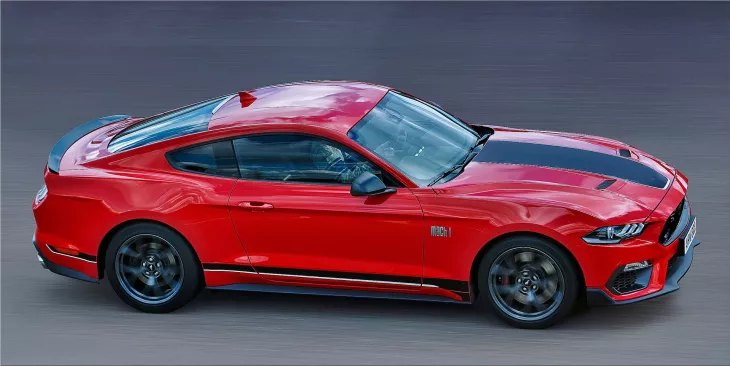 The new Ford Mustang Mach 1 sports car is impressive on the road, and with many performance improvements, this is a Ford Mustang born for the track. The vehicle's brake booster ensures a faster braking reaction. Additional engine oil, transmission oil and rear axle chillers allow extended sessions on the track without diminishing performance. The modernized air intake system enhances airflow. And the Track mode adjusts the vehicle's performance for optimal racing conditions, changing the engine's mapping, accelerator pedal and steering wheel response, and traction and stability control settings.
Available in six-speed manual or 10-speed automatic transmission, the Ford Mustang Mach 1 proves outstanding agility on and off the track.
The specially calibrated 5.0-litre V8 engine offers remarkable power of 480 hp at 7000 RPM and 569 Nm of torque at 4600 RPM. The new Ford Mustang Mach 1 starts at 59,000 euros.
Improvements to the exterior design, such as the unique-looking front, side panels and rear spoiler, increase aerodynamic performance. And selectable driving modes, including Normal, Sport and Track, allow you to easily change the driving settings of Mach 1 depending on the situation. via ford.co.uk.